Welcome To The Online Home Of DJ Nave E (and the Gorilla)
Circa 1998 Paulina Basement Origins
DJ Nave E would like to
Welcome ALL Synergists to
2023 202ME
#IComeToBoom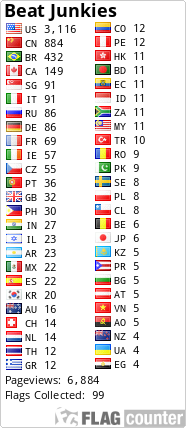 2022…99
Countries TOTAL.
Over 50,000
TOTAL Views/Downloads
Thank you Thank You Thank You ALL for your continued Support!
I've been able to expand my audience and brand outside of the U.S. and I welcome all my new found international followers from the magical land of Oz (Australia), Milwaukee, Florida, New York, California , China has eclipsed the perennial favorite BRASIL for the number 2 spot in visitors/downloads.
Eu amo o Brasil….
There have been some amazing points and highlights from 2012-2020
I gotta say it again, crossing the 25,000 views/downloads threshold is such an significant accomplishment, as well as adding 2 new countries as followers, and I am so humbled that I've been able to achieve that.  Thank you to all the Synergists WORLD WIDE. Hopefully once my passport arrives I'll get back to some globe trotting and can bring these beats international again soon.
Coffee Crunch BOMBS Series (#CCB)is the latest iteration of mixes that is seemingly resonating with audiences across the World-wide, currently in it's double digits and expanding it's Sonic footprint.
Pop Up Techno has taken shape, form and soon will be magically appearing in public and outdoor locations in the greater Chicagoland/Milwaukee area SOON, Spring/Summer 2021
The Beatology series came back and  swung for the fences,
Wubbs N Dubbs Xpress finally came to fruition,
HCBD was re-birthed mid to late summer after the 2013 Festival Season kicked off.
I've also expanded my experience into the land of  hip hop and trap with Atomic Smash and B O M B S 3- Da Twerk Bomb and Twerkology Pt.1 and Pt. 2 have firmly established what the new musical style TWERK is.
BOMBS 11 part 1 and part 2 closed out 2014 with a reinterpretation of what minimal deep house means to me.
BOMBS 13 firmly reminds everyone…B!+(# I'm NaveE
and the Magnum Opus, career spanning, genre-bending,
O.N.E. Beat concept establishing a new mixing/production style
It was a busy 2019. Venturing into new territory, I've expanded my reach not only into the local marketplace with the PopUp Techno series, I've decided to continue my online proliferation and dominance.  With the help of my friends Larry Slim Kloudy from Milwaukee, and my awesome amazing buddy Adam Oz from the Magical Land of Oz deep down under in Australia, Synergism has expanded the globe, and I'm proud to announce that I've hit another milestone of personal significance…
If you haven't had the chance to catch me at 80,000 Watts, Chicago Pride 2012/2013, Oak Park Micro-Brew Beer Festival, Fiesta Cantina, or Cocktail, Packing House, no worries I'm adding new venues and shows.  Hang tight I am starting to tour more often.  Feel free to contact me if you would like to enlist my services for your next event.
It is all the support from friends (and the inability to get bass outta my head) that has been propelling me to continue forward with this music expression project and passionate dream.
As a Mixologist, creating a good mix isn't merely beat matching songs continuously,  it consists of following a theme, muse, vibe, or concept.  The songs or compositions and elements  that are used are selected because they are meant to convey a bigger message, have a larger aural impact or meaning than the sum of their individual parts and the theme of "synergism" is one standard I hold very high and one which I try to exemplify within each of my compositions and mixes.
After years of frustration, false starts, gossip, jealousy,  at least 6 sets of  Technics SL-1200MK-II's,  and over $200,000 in equipment and a vinyl collection worth over $500,000 over the years, I realize that you can never quit on your TRUE LOVE.  I believe in crafting mixes that give you a good pulsing bass line complete with a complex layered rhythmic structure that hits hard and drives relentlessly for hours. I want to leave you breathless, sweaty, makeup everywhere, sore and ultimately joyous.  Deeply fulfilled with a sense of WOW, that was indescribable, yet you can feel it deep in your bones,  heart, soul, and mind for days after your initial listening.   I want to leave you with the feeling that for some reason you can't seem to stop playing it, while going over certain parts you missed this one the first time, leave you with "wait, where did that come from, I didn't hear that before" types of experiences.
I hope you are ready for the journey I have embarked on. Having satisfied one of my main goals was to get  more exposure now it's time to focus on building a core legion of followers with some of the loosest necks on the planet. For me the "LIVE" show should trump anything I post here (and just wait till you see me… I'm sure you'll agree).
Buckle up, buy a really good sub-woofer (DJ Nave E prefers
JBL sub-woofers and speakers),  alert the neighbors (in case either of the above will get you in trouble speak with my friends at Skullcandy, Beats By Dre., or Koss for some fine headphone products), and I look forward to you sharing me with your aerobic workout, morning jog, cleaning your house, or as the next big barn-burning house party you need to get started and turned into your next  Star Studded party.
Ready? Set? Let's go!
Just follow the bass and laser lights.
For the latest updates and automatic delivery of the newest MixCast,
please enter your email address below.
We will never sell or trade your information to any 3rd party,
and it is only used to keep you informed of the latest updates.